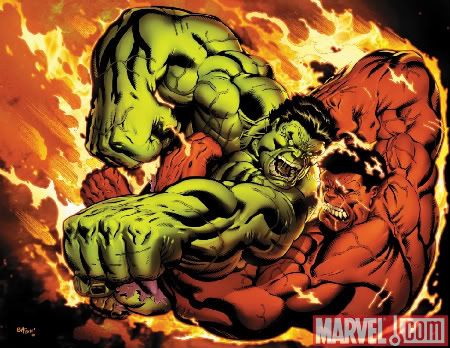 Hulk #24: "The Strongest There Is"
A Loeb/McGuinness/Farmer/Hollowell/Comicraft/White/Cosby/Paniccia Dive
So...it's here. The grand finale of the Loeb/McGuinness
HULK
run, but not the end of the series. (Next month,
ATLAS
writer/artist duo Jeff Parker and Gabe Hardman take over, but that's a story for another blog.) I don't want to give an all-encompassing review like I did last week's
INCREDIBLE HULK #611
. One reason is, well, there simply isn't that much to cover, but also, I think the jury is still out on this one until September 1 arrives and with it,
INCREDIBLE HULKS #612
. We do see one status quo shift this month, with potentially the promise of a second--but we can't be sure of that without the aforementioned book that ships in two short weeks.
I'm not going to be discussing the finer points, but rather I'll discuss one key point of the issue, and the pluses and minuses that go along with it. The point is one you've likely seen if you read the
preview pages
that showed up last week, but still, even if you haven't seen those pages, those who don't want to know what happens: I'd strongly suggest going no further. Full
SPOILER GOGGLES
on from here on out, folks!
The major plot point I'm referring to is, of course, the incarnation of the Hulk as shown in this issue. He appears to possess the full mental faculties of Dr. Robert Bruce Banner, as Loeb wrote most recently in
HULK #10-12
, and as was glimpsed most notably during Bill Mantlo's tenure in
INCREDIBLE HULK #272-297
. A variation appeared when Doc Samson "merged" Banner and the gray and green Hulks (now "Fixit" and "Savage Hulk") in
INCREDIBLE HULK #377
in 1991--still, debatably, more Banner in mind than Hulk, but possessing traits of all three incarnations of the period.
This version of the Hulk is the one who enters final battle (Where have we heard that one before?) with "Thunderbolt" Ross, the Red Hulk, in this issue, and it is he who defeats him handily. Apparently, the re-gammafication of Bruce Banner that occurred in
INCREDIBLE HULK #610
endowed him with so much gamma energy that it not only made it nearly impossible for Red Hulk to siphon off enough energy to change him back to Banner, but it also granted him such power to effectively end the fight with one massive thunderclap of his hands. Logistically, this victory doesn't quite work, as it's arbitrary at best considering the past battles between these two, and the conclusion--an admittedly well-done nod to the conclusion of Loeb's own
HULK #1
--is equally ludicrous in context.
At no time during this issue is lip service paid to either outstanding major plot point I was interested in. Namely, just what
did
Banner say to Ross back in
HULK #3
that's been the topic of much debate and been referred to as recently as
HULK #19
? And just why, if Amadeus Cho's Bannertech determined that the Col. Talbot at Ft. Bowland wasn't a Life Model Decoy in
INCREDIBLE HULK #608
, was Talbot revealed as an LMD after all when Red Hulk tore his head off in
HULK #23
? While the former is no big deal, the latter does leave a plot hole open whereby Colonel Talbot could really be alive and well--and hence, would provide an excellent foil for "Thunderbolt" Ross in
HULK
. Oops, did I say that out loud...?
You probably find it as hard as I do to believe that, after the thrilling denouement of
INCREDIBLE HULK #611
, the next time we should see the titular character, it's in a wholly different form than in that episode. Furthermore, there just isn't any explanation for the change. Oh, sure, Loeb includes passing references to Banner now being "in control of [the Hulk]" and there's an obtuse monologue about the Hulk having to learn from the mistakes of the past; however, it's disconcerting that nothing directly connects the dots between the last part of this saga and this one. (To say nothing about the weather and the timeframe between the two books; but leave us not digress.) There are pieces that suggest the "Green Scar" incarnation, particularly right after the big kaboom near the end, oddly, but they're fleeting at best. I find it extraordinarily hard to swallow that this new Hulk just came up as direct result of the reconciliation with his son Skaar, but it's either we accept that explanation, or entertain the notion that Mark Paniccia, Jordan White, and Nathan Cosby in Marvel Editorial all failed to reconcile the script for this issue with Greg Pak's vision over in
INCREDIBLE HULK(S)
.
Let's examine, then, if this
is
the new
status quo
for our mighty Green Goliath. How long can it possibly last? I'm really hoping the answer is "not long" but at the same time, it seems we haven't had a stable
status quo
for the Hulk since the year of "Planet Hulk." I want one Hulk and one Banner, and I want them as they should be, at odds with each other and the world. I like the Hulk and Banner having separate personalities, as it separates them from the majority of Marvel's heroes (and villains--and for that matter, the vast majority of popular fiction's heroes). Whenever the Hulk has had elements of Banner's personality ascendant--with or without the transformation dynamic intact,
cf.
Mantlo's Banner Hulk & David's merged Hulk--the character has ultimately proven less interesting than with the dichotomy of personalities. The narrative ultimately suffers. I'm of the mind that, for purposes of the upcoming "Hulk family" stories in
INCREDIBLE HULKS
, we're best served by a distinct Banner and Hulk, each dealing with their "family members" in their own inimitable way while trying to get along with each other. If you no longer have a separate Hulk and Banner apart from the transformation itself, then the dramatic tension that propels the traditional Hulk narrative is gone. Hence, the book becomes, as it did during both Mantlo and David's runs during the periods indicated, a standard superheroic narrative where the hero switches back and forth between his "true identity" and his "super hero" selves as required.
Of course, much as I complain, the personality displayed by the Hulk in this issue makes total sense in context of Loeb's narrative alone. The ongoing battle between Hulk and Red Hulk has really been about their true identities, Bruce Banner and "Thunderbolt" Ross, and as such, it doesn't make sense for the ascendant Hulk personality to be any other than Banner. His is the personality closest to all of the important elements raised in these last two issues, from the triangle involving Betty, to the animosity between them that has stretched back to a time before the Hulk existed. Banner not only has to become the Hulk again to surmount the narrative hurdle in
INCREDIBLE HULK #600
whereby he was cured, but he must also gain equal psychological footing with the Red Hulk in order to gain the final victory. It begs the larger question, does Loeb as a writer comprehend the differences between the incarnations, and that the Green Scar incarnation clearly has a different vocabulary and manner than the savage Hulk, the gray Hulk, the Banner Hulk, and the merged Hulk? It's frustrating to me that what works internally for Loeb's run, appears to fail miserably in the greater context of Hulk lore.
Potentially, what Loeb has shown us in his finale is more problematic than anything he showed us regarding the Red Hulk in the last two-and-a-half years. Of course, as I stated previously, I could be huffing and puffing for absolutely nothing, because
INCREDIBLE HULKS #612
could show up on September 1st and establish a distinct Banner and Hulk, refuting everything that this issue has put forth, making idiots of Marvel Editorial in the process. Part of me delights in the idea as it would show the star system is alive and well at Marvel, giving favoritism to writers like Loeb in detriment to the ongoing narrative that's been set up for years in broad strokes by Pak.
It's true, in that three-page epilogue that sets up Ross' new
status quo
, that we see the Hulk outfitted with a utility belt, the same he sports in upcoming
INCREDIBLE HULKS
artwork that, to me, demonstrated that the ingenuity Banner demonstrated during his Hulk-free year was alive and well, and would serve the Hulk as well. (It'd be somewhere for Banner to keep his gadgets during his transformations, and a place for the Hulk to stash his weaponry--remember Banner using his pack-o-wonders in
INCREDIBLE HULK #603
?) But is it a symbol that Banner is actually in control? Say it ain't so, Joe!
So, to recap: Greg Pak's
INCREDIBLE HULK #611
: the emotional thematic finale to everything that's built since the end of
WORLD WAR HULK
. Jeph Loeb's
HULK #24
: a really messy enema for the Hulk's corner of the Marvel Universe and Loeb's run in particular. Honestly...am I delusional?
~G.