Hey folks--
Sorry I've been remiss in updating lately. Life gets in the way, you know? Anyway, you can expect a few things within the next few weeks, the first being my long-delayed review of The Vision Machine by writer Greg Pak. Next week will also see a few more Hulk reviews. I also want to review some old Hulk runs, so tell me whom do you want me to review--Len Wein, Paul Jenkins, or Bruce Jones?
And, oh yeah, there's this--from
New York Comic-Con
on October 9, 2010: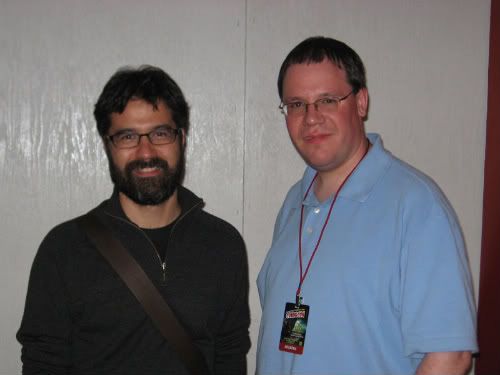 Ladies and gents, it's the one and only
Greg Pak!
Greg says he has some very exciting Hulkish things in store in coming months. We've got the book coming out twice a month through at least January, and hey, we're getting closer to the Hulk turning the big 5-0 in 2012! (And he doesn't look a day over...well, we don't want to make the Hulk
angry
now, do we?)
And yes, friends, I also met Gabriel Hardman, Fred Van Lente, Dan Slott, Scott Reed, Lee Weeks, and some other Hulk-related creators. I do have some sketches to share...another day!
Keep on Hulkin'!
~G.