Folks,
While waiting for my
Chaos War #5/Incredible Hulks #621
review (coming before the weekend, I swear!), here's a sumptuous feast of a page by
Dale Eaglesham, Drew Hennessy & Dean White
from the February 23-shipping
Incredible Hulks #623
: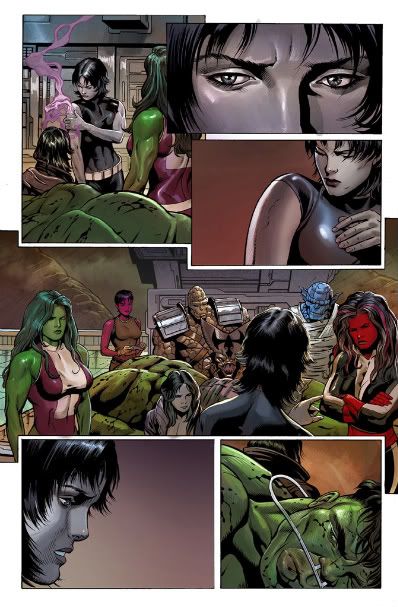 If you click
here
or on the above link, you'll see more preview pages from the same issue. It looks like the
Warbound
will be having one last adventure with a very humbled
Hulk
. Elsewhere in the preview pages lurks
No-Name of the Brood
, but here in this page are the assembled Hulks plus
Kate Waynesboro
and
Elloe Kaifi
!
Great, great stuff by Dale, Drew and Dean, and I can't wait to see the finished issue. It looks like
#625
is the end of the line for the Hulk family, and it all starts here with part one of the three-part
"Planet Savage"
storyline. This epic storyline guest-stars
Ka-Zar
and features the return of renegade Warbound member
Miek
, fresh from his appearance in the final two issues of
Chaos War
. Don't miss out!
Visit
Dale Eaglesham
's website
here
to see some process artwork from the arc. With five pages looking as good as this, can it be very long before he's asked to come back?
INCREDIBLE HULKS #623 (DEC100578)
Written by GREG PAK
Pencils and Cover by DALE EAGLESHAM
Rated A… $2.99
FOC – 1/31/11, On-Sale 2/23/11
~G.